Industrial and Safety Products at Wholesale Prices
Toll Free: 1-877-412-1198
Tel: 647-931-5950
Oil Only Bilge Booms
• 100% polypropylene Sorbent Booms and Rugs
• Will not sink when fully saturated permitting easy retrieval • Can be used indoors or outdoors, and will not absorb water • Prevents odors by absorbing bacteria breeding oily residues.
Available in 5" or 8" W x 18" L and Sold by the Case
Sorbent Booms Oil Only or Universal
• Made of a durable spunbond sock and net filled with 100% polypropylene particulate • Oil only booms are used for marine spills, universal booms are used for large land spills.
• Durable rope runs between the sock and net allowing all tension to remain on the rope • Hooks and clips at ends and 18" provide overlap at connection points • Quick snaps provide easy handling and permit to attach multiple lengths together
• UV resistant for up to 12 months
• Oil only booms are made from 100% polypropylene, and absorb more than 25x their weight • Universal booms are made from a polypropylene and cellulose blend, and absorb more than 18x their weight • Polypropylene and cellulose blend absorption capacities far exceed those of 100% cellulose sorbents.
Available 5" or 8" W x 120" L and sold 4/Case
Rag Rugs
Rag Rug is made from recycled polypropylene and acrylic fibers making it an environmentally responsible product.
• Dark color hides the grunge from oil, solvents, coolants, and water without looking dirty.
• Save money on a mat that holds up to heavy foot traffic even when fully saturated.
• Absorbs 58 gallons of oil and 46 gallons of water
Measures 150' L x 36" W. Available in Custom Widths and Length.
Oil Only Sweep
• Made of durable laminated polypropylene
• 2" nylon webbing for additional strength is added

to the length of the sweep.

• Ideal for a

marine

spill, fine sheen, and surface spill removal.

• Sorbent sweep absorbs

oil

and repels water • Looping straps at each end to tie sweep across waterways or on boats for dragging.

• Easily attaches to sorbent booms.
Measures 100' L x 19" W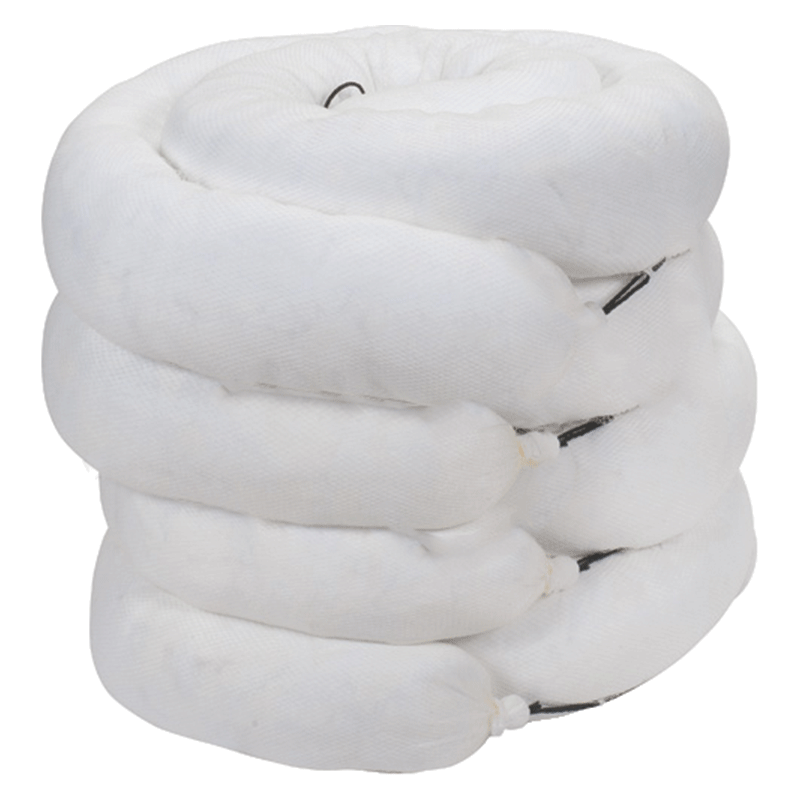 To order: (Click on Below Images)